Mirrors are both functional and attractive décor accents in just about any room. Whether you're looking for a custom-made mirror for your vanity or a decorative custom mirror to hang in your dining room, Titan Glass, Inc. is here to provide you with expert service and top-notch craftsmanship. We've been fabricating custom mirrors for local home- and business owners for 10 years, and if you live or work in the Orlando area, we're ready to do the same for you. Call right now to learn more about your options for custom mirrors from Titan Glass, Inc.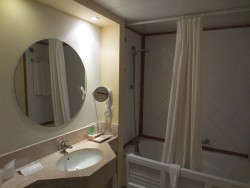 There's no need for you to settle for ordinary mirrors in your home or commercial space. If you want to add visual interest, a custom-made mirror could be just the thing you need! Titan Glass, Inc. is the mirror company you can trust when you need mirrors for a:
Bathroom
Vanity
Decorative accent
Closet door
Gym or dance studio wall
Dining room or bar
Or any other space!
No matter what type of mirror you need, The Titan Glass, Inc. team will make sure the mirrors are to your exact measurements and install them properly and securely. With our help, you'll have the custom mirrors you need to make your living or working space truly spectacular. Our experience and commitment to high-quality workmanship allow us to give our residential and commercial customers the superior results they deserve. If you're in the market for new mirrors for your home or place of business, then we're the pros to call! 
Custom Mirror Edging
At Titan Glass, Inc., we provide a number of different mirror edging options to meet your needs. When you come to us for custom mirrors, you can choose from penciled, beveled, or seamed edges. Our skilled glass specialists will ensure that you get the custom mirror you need to enhance your home or business. If you're not sure which edging will offer the best look for your new mirrors, our technicians can help you choose the right option for your needs. 
Titan Glass, Inc. is a fully licensed, bonded, and insured, custom mirror company, so you can count on getting nothing short of superior service and flawless custom mirrors from us. For more information on what separates us from other mirror companies in Orlando, and to schedule an appointment with our mirror specialists, pick up the phone and call us today!