Is your bathroom mirror doing everything it can for you and for your space? Whether you need to replace a cracked or cloudy pane with a clear surface or you want a large bathroom mirror in a custom shape as part of a renovation, you can count on Titan Glass, Inc. to be there for you. We're pleased to work on bathroom mirrors for residential and commercial spaces. From replacing damaged bathroom wall mirrors to new mirror installation, we can accommodate your vision for the space while ensuring that your mirror glass is durable and safe. Call or e-mail us now to get a free cost estimate for your job, and to learn more about what sets Titan Glass, Inc. apart from our competitors in the greater Orlando area!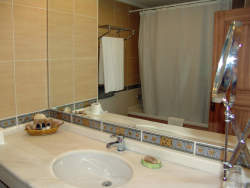 At home, bathroom mirrors play a big role in your daily routine. They're vital for applying makeup, styling your hair, putting in your contact lenses, and doing so many other tasks. At work, bathroom wall mirrors allow your customers and employees to touch up their appearances throughout the day. In both settings, the right bathroom wall mirror can enhance the look of your space and show that you care about decor and comfort. A foggy or damaged mirror can destroy this good impression entirely, in addition to not being able to do the job it's intended to do, while a mirror that's the wrong size or shape can fight with the aesthetic of the room. Want to get it right? That's where Titan Glass, Inc. comes in. 
Custom Mirror Installation
We can install everything from a large bathroom mirror that covers an entire wall to a round or oval vanity mirror to go above a single sink. Depending on the size of the bathroom and your design aesthetic, we can help you decide if a small or large mirror is more appropriate. After making sure the piece is to your exact specifications, our mirror installers will set everything up safely and properly. You can count on us to work with quality materials to give you a mirror that's attractive and durable, and to put top-notch workmanship first.  
Mirror Replacement
Are your bathroom wall mirrors cracked or broken? Is the glass old and warped, distorting your reflection? Titan Glass, Inc. is the company to call to replace that unsightly and unsafe surface. We're licensed, bonded, and insured to work with large bathroom mirrors and small vanity mirrors alike, and we have a decade of experience in our industry. We're one of the most trusted mirror installers in the Orlando area.
Contact us today to get a free estimate, and to schedule your appointment! We offer emergency services, so if you need help in a hurry, we're on the job.