Is a beautiful glass table top the last thing you need for your redecorated dining room? Would you like a glass table cover to protect an antique or fragile piece from scratches? Titan Glass, Inc. is ready to help. Our team of glass experts is ready to deliver glass for table tops for home- and business owners in Orlando and nearby communities. We are here to help you design new custom glass-top tables, provide table glass replacement for surfaces that have been damaged, and more. Whether you need glass tops for dining tables, coffee tables, or desks, we're here to deliver impeccable results. Call us today to learn more about the glass services we offer and get a free estimate!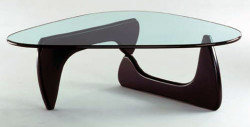 A glass table top is an ideal form of protection for an existing table because it can protect the wood from scratches, water marks, and other damage. Glass table covers can also stand on their own as elegant, attractive décor. At Titan Glass, Inc., we're able to provide glass for a table top in virtually any size and shape, including:
Ovals
Squares
Circles
Octagons
And more!
Depending on the style of the table that will use the glass table cover, you'll want to consider what glass edge treatment will look the best. At Titan Glass, Inc., we're skilled at creating a variety of different edges, including penciled, beveled, and seamed edges. Our glass experts can help you weigh the various shape and edging options, so you end up with glass for a table top that's attractive, sturdy, and one of a kind. Whether you need a glass dining table top to protect a valuable antique or you want to fill your restaurant with several dozen small round glass-top tables, Titan Glass, Inc. is the glass company you can depend on. Quality workmanship is our top priority, so you can rest assured that you'll be satisfied with the work we do. 
Table Top Replacement Pros
In addition to installing new custom glass for table tops, Titan Glass, Inc. also offers table glass replacement. Turn to us whenever your existing table glass is damaged or needs replacing for any other reason. Our fully licensed, bonded, and insured technicians will outfit you with glass that matches your exact specifications and install it properly so you can get back to using your table as before in no time.
If you're in need of glass for table tops in your home, look to the pros at Titan Glass, Inc. We have 10 years of experience in the glass industry, which makes us your trusted source for knowledgeable and skilled table top replacement and new installation in Orlando. Call or e-mail us today to learn more about how we can meet your glass table top needs!